Truth's Tags
Truth's Concepts' Tags
Other Links
Name: Darci/Addison/Mx Steele
Nicknames: Truth, Jy, Kran, Ci, Addy
Age: 18 (September 08)
Gender: DFAB Gender fluid
Preferred Pronouns: thon (or anything really)
Main tag: #truth
My name is Darci, Addison, or Mx, though most people on here know me as Truth, Jy, and/or Kran. I am 18 years old, born September 8th 1995, and am DFAB genderfluid - my preferred pronoun is "thon", but feel free to use any pronouns you want for me so long as they aren't "it" (most people use "she/her" and that's completely fine!)
I suffer from Asperger's Syndrome, crippling paranoia, psychotic depression, schizophrenia, eye problems, holes in my heart, and the feeling that I'm going to fuck up everything I do. I try my best to be kind, and I have quite a few people I'd like to consider as my friends, but I hold myself under the constant belief that I am nothing but inherently stupid and not worth anyone else's time, and I'm sorry that this ends up causing problems for communication with others.
As far as hobbies and interests go, I'm a workaholic who spends their day either at college studying HND Interactive Media, or at home working on art and writing projects, often working late into the night to try and get everything done. I have a nasty habit of setting myself too many deadlines, but am yet to have ever completely buckled under the pressure. I come from a household that barely earns any money, and I often have to use money gained from my student loan in order to keep us out of debt as much as possible. I am pretty much completely unhirable and thus incapable of earning myself a steady wage, but at least I have enough money so as not to have to skip meals any more.
Whenever I say anything about "him", I am referring to my late best friend, a man named Suzume, who unfortunately died in May 2011. I miss him very much, but I make sure he lives on in my stories. The "her" I refer to is for me to know and you to find out (unless you are "her", in which case you already know)
Quick guide to emotion-related tags:
#famous last words of a fool - suicidal, depressed #kiss my eyes and lay me to sleep - unmotivated, despairing -will add more as they come up-
How old are you?
I am 18

Where'd Gypsy go?
Gypsy has more important things to do than the Internet. I have not seen her in a long time

Why are you using a potentially offensive name?
Truth: The original user of this blog, my nickname derives from the fact that my URL is themanyfacesoftruth, which basically says that you never really know what the truth actually is. The URL also now ends up reflecting the fact I have a wide variety of personas

Why do you not respond to all of your messages?
Messages that spread hate will be ignored. Otherwise, I probably didn't receive it. Feel free to send any non-hate messages again if I don't respond within a few days

Why do your posts keep disappearing?
I delete my posts when I get depressed. I deeply apologise for this

Kill yourself
No thanks, I'm full
▲
18 | UK | ♂♀⚧⚨∅⊕♅ Aspire Inspire Respire. May or may not possibly be a dragon
There are way too many Social Justice Warriors here!

I'm going to need some of you to switch to Social Justice Mages and Social Justice Rogues before we start the game, okay? We need a balanced party if we want to make it through this.
Can I be a Social Justice Druid?
You are blind for 40 minutes everyday

We are blind for 40 minutes everyday due to saccadic masking. A saccade is the term used to describe the quick movement of our eyeballs every time we shift them from one object to another. During the fraction of a second that it takes for our eyes to go between these objects there is a blur, a blur that is so fast it is incomprehensible to our brain.

This blur needs to be removed else we would quickly become disorientated. We remove the blur by simply erasing it from our memory. We fill in the space of time where the blur occurred with an image of the first object. In this sense the blur has been "masked" by the brain, hence the term saccadic masking.

This happens all the time since we're moving our eyes all the time. It takes a fraction of a second to move our eyes from one object to another. This may seem small but over the course of a day we lose around 40 minutes. This means that at the age of 80, saccadic masking will have caused us to lose 2.1 years of our life! (Source & More Information) (You may also like: Blind Spot)
So much for trying to get remote work, I can't upload my code sample online because this thing won't bundle install a code I need, no matter how many times I try to get it installed
why is this not simpler
Introducing Yu Ying, a RWBY fancharacter inspired by and relatively based on calebtdenecour
Ying runs the Community Club, an extracurricular club known primarily for their videos, gaming, and videos about gaming, and he's a very involved leader, always making sure that the members of the club are happy and enjoying their time. In addition to this, he is a fond athlete, and is training to be a field medic
Ying's weapon is Bullet Pass, a frisbee-like contraption capable of taking Dust in a small compartment accessible by the top, and then activating it mid-flight by use of a small remote detonator. If you plan on facing Ying, it's not all that uncommon to receive an ice cold frisbee to the face
Ying's Semblance is the ability to "see through the eyes" of a target, an ability that often gets referred to as "screen-looking". In combat situations, this can give him a distinct advantage. There are rumors that he will use this ability when playing games, but there is no solid proof of this
Ying is pangender, and quite enjoys wearing various wigs, though he mainly sticks between four green wigs of different styles and lengths, his overall favorite being a turquoise one that has most of the hair up in a ponytail and one side of the bangs braided
Ying's name means "luster of gems", "eagle", "victory", "flower", or "jade", depending on interpretation, and Yu means "jade". Ying's color is jade, and his symbol is a heart with a medical cross symbol cut out of the center of it (can be seen on his shirt and his shoes)
I'll be participating in Extra Life as part of the Rooster Teeth community. Please donate if you can!
modern day identity crisis.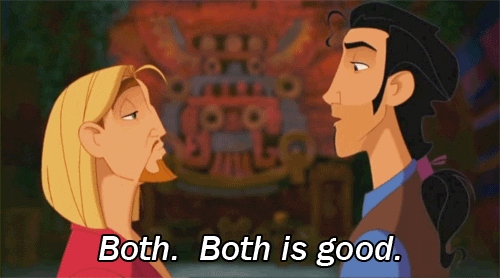 Okay I've done my human interaction for the day I'm just going to crawl under this blanket and be terrified
the high horse analogy just doesnt resonate w me i dont understand why i should want to get off my high horse my horse is so tall, he is enormous and titanically powerful, he will stamp on my dissidents and scatter them like cockroaches, its a good place for me to be strategically
It also hurts more when you fall off
ive never broken a bone…the skeleton inside me is too powerful and strong and i will defeat all of you in the skeleton war
Ah, that may be true, but when bones grow back they grow back stronger, so really, people who've broken loads of bones and had them all heal are the stronger ones